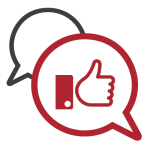 Improve your online reputation
Content Motive's branded review sites are created with business in mind. We provide services for automotive businesses that truly desire to provide excellent customer satisfaction. Content Motive's branded review sites give your dealership the tools you need to get honest feedback on your store's customer service ranking, and give honest solutions to consumers to address issues and retain continued business. Our program is composed of building two different websites: the first works as a funnel for all your online review accounts, the other works as a database that collects reviews.
I Love Dealer Websites
I Love Dealer Websites are customized and designed to fit your dealership's specific needs, and are additionally made with customer accessibility in mind. I Love Dealer Websites act as a gateway to your dealership, and also provide buyers with a place to leave feedback from home, their mobile devices, or the dealership itself.
I Love Dealer Websites are designed for easy mobile and tablet compatibility, making it easy for dealerships to access the site on an iPad or other tablet device to provide customers with in-dealership access to leave reviews while giving dealerships greater control over the content posted publicly.
Websites are also built with ROI in mind, meaning that Content Motive integrates your social media links and applications for greater web visibility and branding. All I Love websites are keyworded for search engine optimization, are made to occupy a space in your Google SERP, and provide access to (and are accessible from) your main website.
Content Motive does not brand I Love Dealer Websites; we want customers to know they are dealer owned and managed, and are a trustworthy outlet for communication with the dealership. The intention of I Love websites is not to impersonate review websites like Yelp or Google, but to provide your customers with easy accessibility to your dealership's accounts to generate better web reputation for your business.
Dealer Review Websites
A review site is a website that runs a database holding the reviews. Each review builds its own page and is key worded both in the body of the page and the URL for maximum SEO benefits. Each review is also linked to the dealer's main website.
Like with Content Motive's I Love Dealer Websites, we integrate social media and other digital assets a dealership may provide to maximize web presence. Additionally, our review sites also aim to illustrate the website's authority as a facet of your dealership with logos and designs that indicate it is a dealer-managed website, and not an independent review site. Retaining customer reviews on a dealer-managed website is vital: third-party sites may disappear or evolve, and those integral reviews could be lost forever. The purpose of review sites with Content Motive is to gather and archive interactions between your dealership and its customer base.