Crucial Local Search – SEO
SEO is not exclusive to within your website. There are several things dealerships can do to improve there search rankings without using a SEO company.
Google Places / Google My Business
Everyone knows that Google owns virtually all searches on the internet. This being said, the number one thing that every dealership should have for their website(s) is a Google Places page. Having this done is by far the most important off site SEO thing you can do. Having a places page and tying it to your dealer's domain, tells Google that your dealership is legit.
Where you rank on local search
Tracking and measuring your dealer website's ranking in organic search is very important, but you need to get more granular with local search results. How does your dealership rank for specific keywords on Yelp, Citysearch, Yellow Pages, Superpages, and other third-party local sites?
Information consistency across the Internet
Having wrong business information or failing to keep listing information current in search engines and local directories can lead to a bad user experience. Does your dealership have the correct hours of operation on Yelp? Has your dealership moved to a new location recently?
Customer Reviews
Customer reviews instill trust and confidence in consumers. The number of reviews for a dealership on services like Google+, Yelp or Yahoo can influence consumer perception about the popularity of a business and how you treat your customers. Content Motive offers a great product for giving your customers a place to go if they want to leave a review, I Love Dealer Websites and Dealer Review Websites.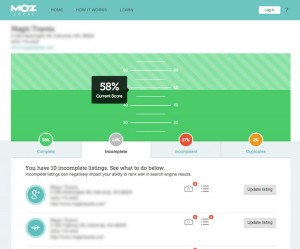 Here is an awesome tool that lets you check to see if your dealer website is showing in the proper local directories like Yelp, Google Places, Yellow Pages, etc.
MOZ Local – This tool will tell you how your dealership is doing as a whole for off site SEO.